Solar Street Lighting
Solar Street Lighting
Solar street lights are raised light sources which are powered by photovoltaic panels generally mounted on the lighting structure. The photovoltaic panels charge a rechargeable battery, which powers a fluorescent or LED lamp during the night. Solar street lights are well-designed to illuminate large areas with the highest intensity of light. As Name indicates solar light get it energy from a rechargeable battery, which is going to charge by solar rays. This street light is very eco friendly its recharge automatically and turns on at evening.

Types of solar street lights:
Solar street lights are generally classified into two types,
☉ Standalone solar street lights:
⇨ Standalone solar street lights have photovoltaic panels mounted on the structure. Each street light has its own photovoltaic panels and is independent of the other lamp
☉ Centrally operated solar street lights:
⇨ In this type, the photovoltaic panels for a group of street lights are mounted separately. All the street lights in a particular group are connected to this central power source
Shauri Solutions:
⇨ We provide solar solutions under MNRE specifications.
⇨ 25 years warranty for solar panels.
⇨ 3+2 years warranty for battery.
⇨ 24/7 customer care support.
⇨ Only A-brand quality mono- and poly- crystalline silicon solar panels with high efficiency and long lifetime are used.
⇨ Highly efficient controller to charge your batteries and intelligent microprocessor controlled algorithms for light management ensure maximum uptime.
⇨ Specific deep discharge batteries are used to store the energy, provide energy for immediate requirements, and enable a back-up for days when there is little or no sun.
⇨ Microprocessor managed algorithms autonomously determine sunrise and sunset.
| | |
| --- | --- |
| Conventional street light | Shauri ENERGY solar street light |
| 90 W high pressure sodium | 30W Ultra High Efficient Array |
| 30-50 Lumen / Watt | 120+ Lumen / Watt |
| No Back Up Power Source | Internal Battery (Approx. 3 nights autonomous operation) |
| Requires electricity | Solar powered |
| Works only when grid is energized | Works during power outages |
| Additional wiring in the ground | No wire in ground |
| Significant resources to install | Simple install |
| Attracts insects | Does not attract insects |
| Transformer required | Transformer not required |
| The sodium street light seems less brighter | The white LED street light seems brighter |
| Objects are harder to identify | Objects illuminated can be identified clearly |
Comparison of lifespan: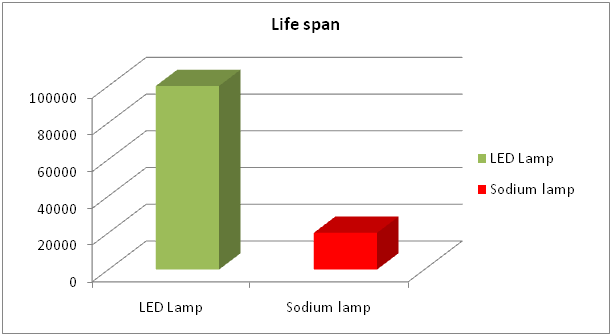 Benefits:
⇨ Less Maintenance
⇨ Automatic ON/OFF control (dusk to dawn)
⇨ No man power required
⇨ Stand alone system
⇨ 3-5 days backup power for rainy, cloudy days
⇨ Surge/lightning protected
⇨ High reliability and durability, a complete shock proof system
⇨ Highly efficient luminary, High intensity, high uniformity and glare eliminated light
⇨ Rugged equipment, weather-proof components providing long and consistent performance
⇨ NO wiring run from and to the grid - NO cuts through existing roads, sidewalks or landscaping
⇨ Easy to Install
⇨ No line voltage, trenching, or metering
⇨ No power outages
⇨ Independent power and light source- no two systems are connected, hence no single point of failure.
⇨ No Monthly electricity Bills.
⇨ Controlled charging to prolong battery service life
.
Applications:
⇨ Street Lighting
⇨ Roadway Lighting
⇨ Pathway Lighting
⇨ Ramp Lighting
⇨ Sidewalk Lighting
⇨ Private Road Lighting
⇨ Farm Lighting
⇨ Wildlife Area Lighting
⇨ Perimeter Security Lighting
⇨ Park Lighting
⇨ Gate Lighting
⇨ Railway Yard Lighting
⇨ Fence Lighting
⇨ Campus Lighting
⇨ Ship Dock Lighting
⇨ Remote Area Lighting
⇨ Military Base Lighting
⇨ Jogging Path Lighting